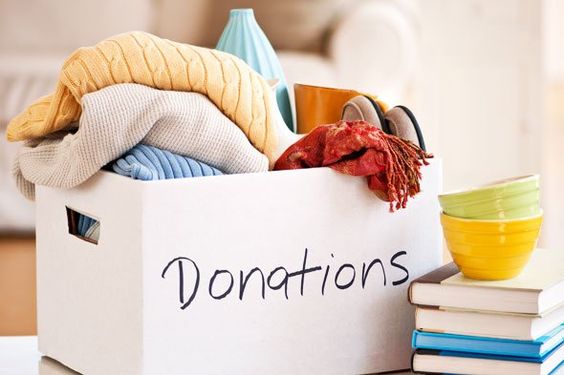 I could not do my job without the existence of charities. As a professional home organiser I can honestly say I rely on the wonderful charities and their teams of volunteers to make my business possible.
As part of my service I offer to take up to a carload of donations at the end of each day. This is a crucial part of the decluttering and organising process. My clients work hard to make a conscious decision to part with belongings that they no longer need, want or use. To then get them out of the house means that they don't have a chance to creep back in and it gives my client the elation and the feeling of progress that is needed at the end of the day.
This is something I do on my own time as I feel it is a wonderful opportunity to pay it forward and let others enjoy what my clients no longer need and it also makes the decision to part with something a little easier knowing it is bringing joy to somebody in need.
When My Organised Home first started I really only knew of the charities that we are all familiar with like Salvos and Vinnies. What I have been surprised to find over the past few years are some fantastic new charities that have sprung up and are doing such wonderful things for people out in the community who really need a helping hand.
If you want to declutter your home and have things to donate that you feel may bring joy to somebody else then please see the following a list of charities which you may not even know exist.
Also please remember donations that are not worthy of passing on to those in need cost these charities millions every year in disposal costs. Donate only those things that are in good condition. Clothes must be clean, without stains or holes. Other items must be in good working order.
Dandelion Support Network
The Dandelion Support Network based in Sydney is a group of volunteers who believe in compassion, acceptance, support and sustainability. Our members accept, sort, clean and safety check pre-loved nursery equipment and children's clothes for distribution to families in need through hospitals and support agencies free of charge
The Nappy Collective
Collecting your left over nappies and redistributing them to organisation's that support families in crisis or in need. This is an Australia wide collective.
A handful of leftover nappies may not mean much to you or me, but a collective of these nappies can make a huge impact to families in crisis or in need.
"If you have any leftover nappies, sitting in draws, at the bottom of your nappy bag, in the back of a cupboard at the grandparents' house - we'll collect them so that they can be redistributed to organisations who support families in crisis or in need".
The Nappy Collective runs for 2 weeks twice a year. If you have nappies to donate, drop them off at the designated collection sights whilst the collective is on. Sign up to the mailing list or like the Facebook page to be notified on when and where the collectives are on!
Nappies can be of any size or brand and are not required to be in packaging. Knowing the size is helpful but not necessary.
Beauty Bank
The Beauty Bank is a Sydney based group that provides women (and men) in need with the little luxuries in life that most of us take for granted.
The Beauty Bank only accepts unopened and unused toiletries and makeup (except perfume). This is for 2 reasons, we want to make every recipient of a gift pack feel loved and special and also due to hygienic reasons.
The Beauty Bank accepts toiletries, makeup 'gifty' items such as candles, jewellery and accessories.
Dress for Success
Dress for Success Sydney offers free clothing, styling and presentation skills to women wanting to enter or return to the workforce; or needing good clothes to present themselves well at an important life event.
Clients are normally referred by a referral agency - job training and placement agencies; or community based not for profit organisations that support disadvantaged women.
Many of Dress for Success Sydney clients will have been out of work for a long time. Some may never have had a job, while others may be coming out of prison or detox programs, or be recently arrived refugees.
So should you have any work attire in excellent condition then this is a wonderful initiative that will happily take your donations.
www.sydney.dressforsuccess.org
Mummies Paying It Forward
Mummies Paying It Forward is a community group that specifically supports local non-for profit charity organisations, through material donations.
"We strongly believe in the great work of the not-for profit charity organisations we support and the dedication and passion of the volunteers that devote their lives to helping families in need within the community"
Check out their website to see drop off points and what they can and cannot accept.
www.mummiespayingitforward.org
Project Uplift
Since 2005, Uplift, with assistance from Intimo and Rotary Australia World Community Service, has sent over a million bras wherever women have requested them. Uplift tries to ensure they get to the women who need them without compromising their dignity. We have sent bras to Fiji, PNG, Vanuatu, Cook Islands, Tonga, Solomon Islands, Philippines, Bali, Cambodia, Sri Lanka, Botswana, Uganda and Paksitan, the Northern Territory and the Kimberley regions in Australia.
For drop off points around Australia check out their website.